If you want to know how to change the size of a picture, the answer is easy, as there are many applications that change picture size with fewer and fewer clicks after every update. There is, although, a greater need for an application that can change size of pictures without sacrificing on image quality.
The basic flow or logic of image enlarger tools is that they straight-up stretch the image that you give them and that's basically it. More often that not, you will then find those stretched images to be galore with pixels that pretty much cover the entire picture.
Now, Vance AI Image Enlarger is said to be a tool to enlarge image without losses in quality. To change picture size and experience no loss in quality allows for those images to be applied for all kinds of work, then be it on social media or any website with unconventional picture size needs.
Huge advertisements and posters are always of a big resolution and a tool to do it instantly is essential because no one wants to spend time with complicated software, trying to figure out how to change picture size. Let's look at what Vance AI Image Enlarger has to offer.
Overview of AI Image Enlarger
The AI Image Enlarger works by using Artificial Intelligence based methodologies, which you can get from the name. This goes for all It does have its implications however. For one, even though Vance AI's features are available online or through its software, the process to change picture size is done by the application itself.
That means, all you have to do is upload images. Vance AI Image Enlarger uses a technology called Convolutional Neural Network or ConvNet. This is a specialized image processing software that is popularly used for computer vision programs. This is a good technology to have for image editing.
An aspect that every application is judged on is for its ease of access or in other words, user interface design. Vance AI has a pretty bold interface. Users nowadays are fast and here too, we need images to capture and maintain their attention.
Infact, a good design somehow manages to convey all the important information through its visuals. The AI Image Enlarger's home page straight away gives out the button to upload images, which most of us are really there for. Scroll further down, however, and you will find images that show off the application's capabilities in variety.
Lastly, the prices. So, Vance AI offers three kinds of subscriptions. One is obviously the free version of the tool that allows users to change picture size 5 times per month, they are called credits. Free account holders can increase image resolution upto 4 times and the images need to be within 5 MB of size.
The other two are Basic and Pro that cost $9.90 per month and $19.90 per month respectively. The Basic allows upto 10 MB size images, 3000×3000 resolution, and 200 credits per month. As for Pro, it is similar to Basic in terms of features except you get 500 credits per month. They both also allow batch processing, access to faster Vance servers, and customer service. Also, unused credits for the month are carried forward to the next.
How to use AI Image Enlarger
These are the steps on how to change size of picture with this application.
1. Use any of the links given above or this to reach the home page of AI Image Enlarger. Click on the Upload Image button to open up a prompt window.
2. This window will show you your current account type and amount of credits. On the left side and under Uploaded, click on the yellow button to upload an image.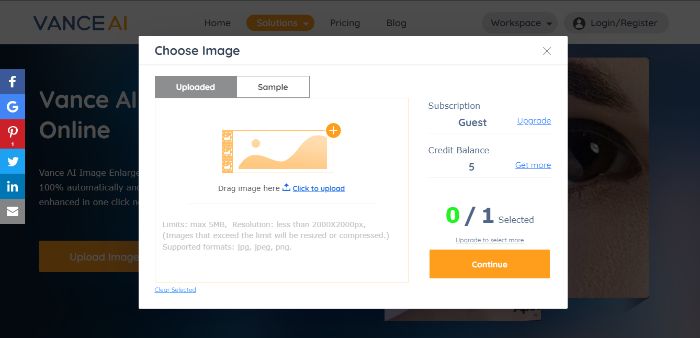 3. Click on Continue and the application will ready your output in a while. Click on Download to proceed. You will need a free account for it which you can get through a Vance or Google signup
Example Pictures
These are a couple of outputs received from Vance AI Image Enlarger.
The most noticeable difference here is the sharpness around the arc of the moon. They are still not as sharp as you'd like but it is certainly good enough, considering that this is also a zoomed in version of the output.
Besides that, the details on the surface of the sphere are clearer as well. The shadows are pretty identical though. So, overall, the application brings in a sharpness to the image.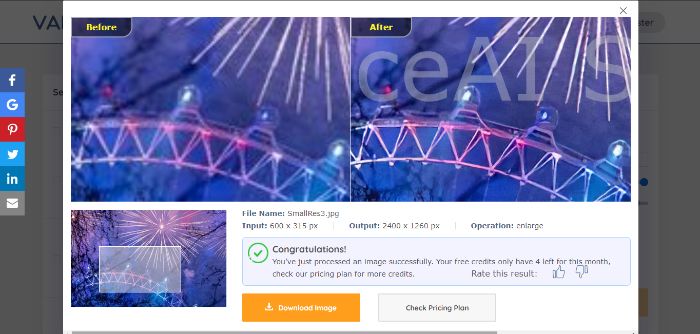 The AI Image Enlarger does much better here than the previous image. Every detail, as in the background, lights, fireworks, etc have been rendered to look much more awesome.
Also, this image was scaled up 4 times the original. It would be better if the application had another option to compare original and output images in full size.
Conclusion
With a solid technology, smooth user experience, and more than satisfactory outputs, Vance AI Image Enlarger proves to be a damn good application to change picture size with. The prices it asks for Basic and Pro are reasonable as well for they provide just as many features and upgrades.
If you are a serious and consistent user, you can surely opt for the AI Image Enlarger with any of the two paid packages. Else, the free version will do just fine.