Machine Learning today has become the hottest topic in the IT Sector. The worldwide machine learning market was standing at a valuation of $7.3 billion in 2020 and is predicted to reach at $30.6 billion in 2024. Globally there is a significant rise in Machine Learning Engineer Salary. As a result, it's rapidly adopted by companies around the globe. Gartner Inc says that AI implementation has grown to 37 percent, this is almost a 270 percent rise in the adoption of AI/ML Tech for the last 4 years.
Machine learning's continuous embracement in business across industries shows how valuable and fruitful its algorithms, frameworks and techniques are at solving complex issues at super-fast speed.
Machine learning, NLP, and deep learning are the three most in-demand skills on Monster.com. The average Machine Learning salary is around $145000 according to indeed.com. And the most sought after job Title – Full stack developer came in at the third place with $115000 annual remuneration.
Let's start detailing the actual jib of Machine Learning Engineer and understand why they get a high compensation for their work.
Job Role
Machine Learning can be described as complex work of data science and software engineer as they work with roles work with a huge amount of information, and having exceptional data management skills with the potential to conduct complicated modeling on dynamic data sets.
You need exceptional skills in statistics and programming, due to this a machine learning engineer can also be called as a thorough software engineer and is very similar to data scientists – whose main job includes some level of programming and machine learning skills. But here is a catch to the main difference between these two jobs. Data professionals provide insights, usually in the form of reports that can be read by humans in general. Whereas, machine learning engineers design self-running software for automating predictive models. Every time the software operates, it utilizes those results to fulfill future operations with superior accuracy.
The ultimate goal of this profession is to develop algorithms that can enable machines to analyze the data they collect, identify patterns, deep insights, and take decisions depending on their findings.
The technology is already in use by major companies like Google, Netflix, Yahoo, Etc. Many Automatic processes like autocomplete suggestions and recommendations are used by these companies to provide through smart machine learning algorithms.
High Demand In Industry
The demand for this Job role has risen since the last multiple years, as according to Indeed.com, Machine Learning Engineer openings grew 344% between 2015 to 2019 and were also ranked at the top among the best jobs in The US Category. There are more than 40000 jobs in the U.S. now (according to LinkedIn) that list machine learning as a necessary skill, and 98,371 globally.
Tensorflow is the No.1 Skills listed among the top 10 skills that grew in popularity from 2016 to 2019 according to UDEMY FOR BUSINESS' 2020 WORKPLACE LEARNING TRENDS REPORT: THE SKILLS OF THE FUTURE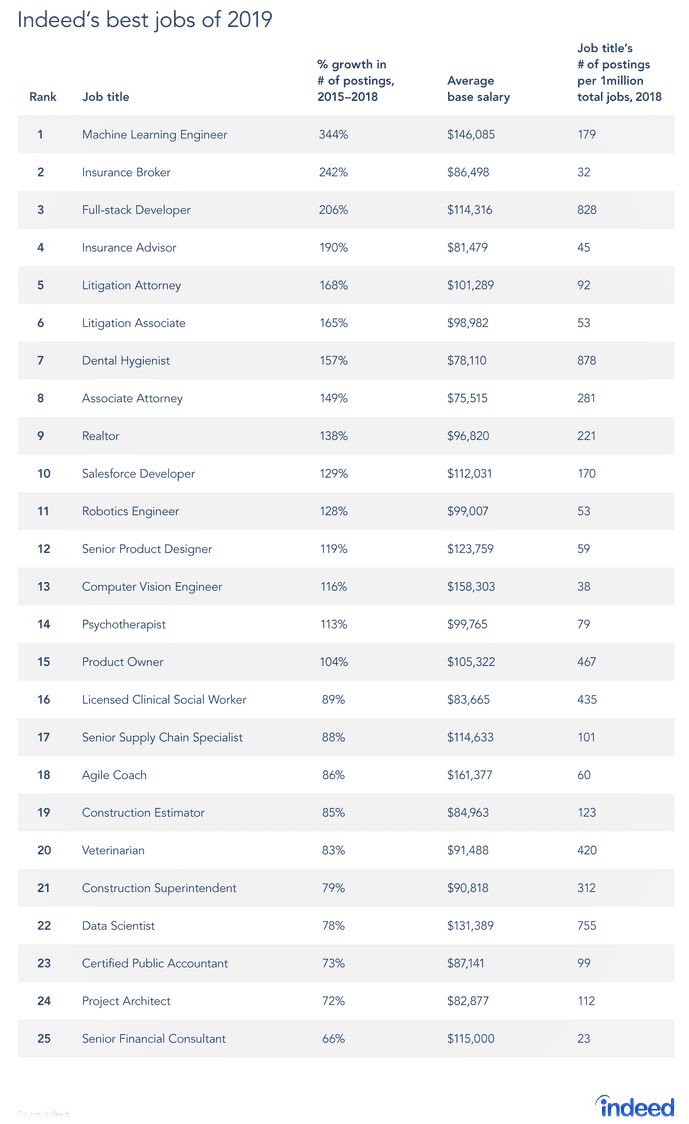 According to Linkedin's 2020 Emerging Job Report Artificial intelligence and machine learning have topped among other the 15 emerging Jobs. AI and Machine learning have both become synonymous with innovation and futuristic leaders and present data around the world shows that it's more than just a buzz. Overall growth for hiring within this domain has increased 74% annually in the last 4 years and encircles a few different titles(related) within this space and that all have a particular set of skills, despite being broadened across industries.
Where To Find The Highest Salaries
Countries like Australia, Canada, France, Germany, India, Netherlands, Singapore, Spain, United Kingdom, and United States can be considered when you search for Highest salaries and multiple job openings into Machine learning / AI.
When the US is considered, (which pays the highest compensation) high cost of living cities are listed initially like San Francisco(24.4% more) and New York(8.1% more) and Your experience and expertise are often secondary here.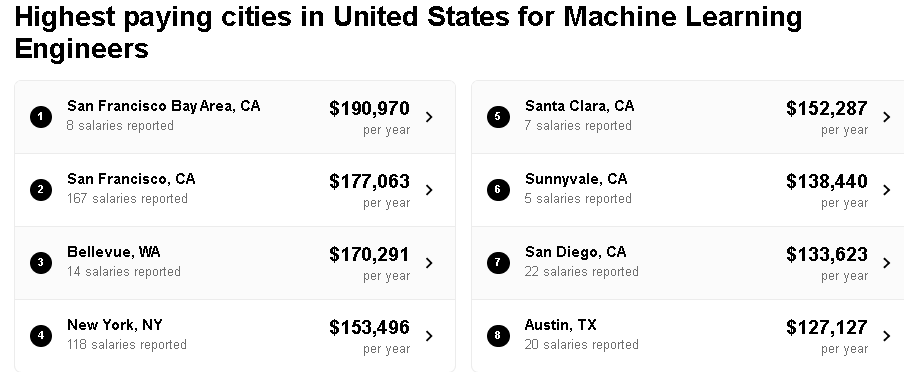 Source: Indeed.com
However, one thing to note here is that even if you make a high salary in these locations, you will certainly spend more due to the high cost of living.
Now, let's explore the companies which will pay more salaries when compared with others.
There are mainstream Global companies that are hiring ML Engineers with exciting and attractive pay packages. These companies hire according to the candidates skill-set and experience.
Reported salaries at the renowned global banking giant- J.P. Morgan Chase & Co. (JPMCC) is $137,344. Other companies that offer high salaries for this role include C. H. Robinson Worldwide, Inc at around $136,500.
Then there are countries that offer high salaries and do have tons of AI and Machine learning related career options. These countries do attract the most number of Global AI and ML Talent and are also highly ranked in AI-related Research and Development.
Compensation (Salaries)
Entry Level Salaries
An early career Machine Learning Engineer having 1-4 years of experience gets a total average compensation of $111,845 (including bonuses and overtime pay).

There can also be an alternative or probability of profit-sharing in many companies, so if that is taken into account then the salary may go towards a higher level.

Mid Level Salaries
A mid-level engineer with experience in the range of 5 to 10 years can expect a compensation package of around $135,505 (including profit share, bonuses and Overtime allowance)
The pay difference here varies according to industry and company. As there are many non-tech companies that are also hiring a huge number of Machine learning engineers.

Senior Level Salaries
A highly experienced candidate with 10 Plus years of Experience can expect a salary of around $150,000. The salary rises when extra bonuses and other pays are included. As senior employees can expect more benefits and performance incentives which bulks up the overall remuneration.

List Of Skills Impacting Machine Learning Engineers Salary
C++ Programming Language
Big Data Analytics
Computer Vision
Data Analysis
Data Modeling
Deep Learning
Image Processing
Natural Language Processing
Software Development
Signal Processing
Matlab
Python
Pattern Recognition
Machine Learning Engineer Salary By Country
There are many certain countries where machine learning engineers Jobs are in high demand other than the global leader USA are the UK, Canada, France, South Korea, Australia, Netherlands, Germany, China, Japan, Italy and India.
Here are the MidPoint Salaries By Country (SalaryExpert.com)
France – $76,445
Germany – $ 80,000
Netherlands – $75,492
United Kingdom – $76,692
Canada – $86,911
Japan – $70,000
China – $45000
Australia – $99,681
Israel – $75000
India – $15000
Italy – $69,144
Korea – $58,000
Conclusion
We have provided a great detailed insight on this rare topic and hope it helps all the ML Aspirants. Machine learning engineer is a job role As a fairly new job title, so there are many other roles that are mainly intended to function as Machine Learning experts. as this role lies in between data science and software engineering.
There are also some necessary AI and ML Books that should be referred for learning this new technology and progress in your career.